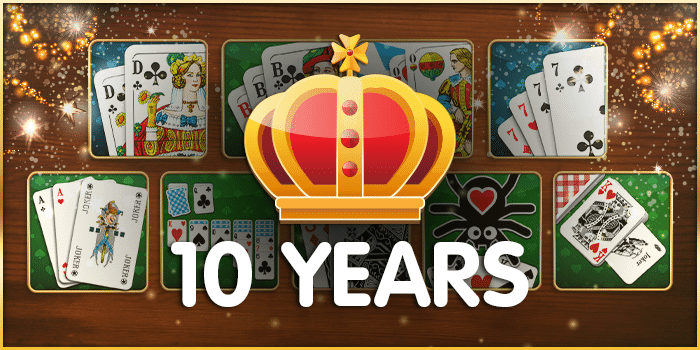 We keep partying on!
Klickt hier für die deutsche Version
Dear friends of the Palace,
On day four of our big ten-year celebration, you hopefully know the score: We say thank you and take a look at the fourth game released by Spiele Palast. This means, today, we are talking about Mau-Mau, which made its way to the Palace on March 4, 2015.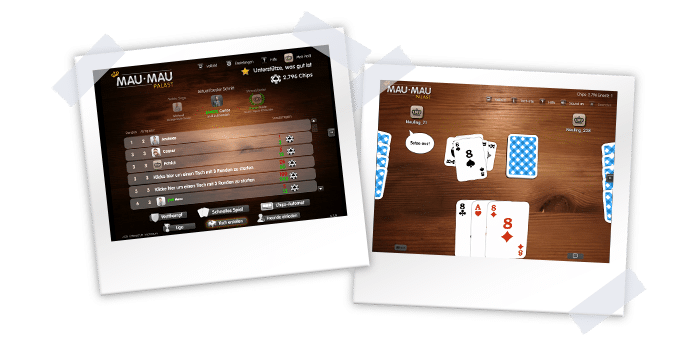 Mau-Mau was released more than four years ago, but it didn't collect any dust. We keep our games up to date and exciting. Therefore, you can join tournaments in Mau-Mau, as well, and comfortably play the game on new devices. Of course, we are always working on something new in the background.
Mau-Mau wants you to bring your friends!
Are you bringing three more friends? Perfect, all of you get a seat at the table! We do not believe there are still people who don't know Mau-Mau. But to be on the safe side, we made a short profile for you: It's a shedding game, played with 32 cards, depending on the set of rules, and various amounts of players. Now it's everyone against everyone! Being the first one to discard all your cards makes you the winner. Some cards can be used for your advantage. Others can be used to sabotage other players. A modicum of luck will be useful, too.
Are you craving a good game of Mau-Mau? There is no reason to hold back any longer. Everybody clicking the following link today, December 10, 2019, gets to play as a Premium member at the Mau-Mau Palace for two days! Scoop out the custom rules, get to know the Chat Bar, and choose your fellow players.
Click here for two Premium days at the Mau-Mau Palace
Good hand and have fun!
Your Palace Team is looking forward to seeing you tomorrow 🙂