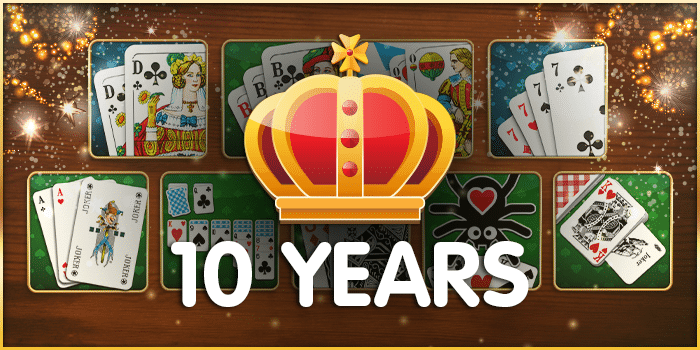 We celebrate our Birthday!
Hier geht's zur deutschen Version
Dear friends of Spiele Palast,
We have reason to celebrate. It is fun, it is an anniversary, it is a decade of card gaming fun! On December 7, 2009, our first game saw the light of day. This is where the Palace, as you know it today, began to take its course. To appropriately celebrate this occasion, there will be free Premium memberships in each of our games, every day in a different Palace in historical order!
Early years
Take a look around on our website, and you will see, we offer nine classic card games. Ten years prior, it was very different. Doppelkopf used to be the only game, and we called it "Wolle's Doppelkopf Stube", which would be "Wolle's Doppelkopf Parlor" in English. Without you, our player community, our Palace would not be what it is today. Hence, we want to say thank you for your loyalty and joy of playing with a little present.
Starting today, we will look back on each one of our games for nine days. Each post, this one as well, contains a link. Click it to activate the free premium membership for you. Thereby, you will be able to play the respective game as a Premium member for two days! The result is a nine-day Premium party. Put on your party hats and let's go!
Since an anniversary is always a fitting occasion for a trip down memory lane, we present you with a Doppelkopf photo from olden times: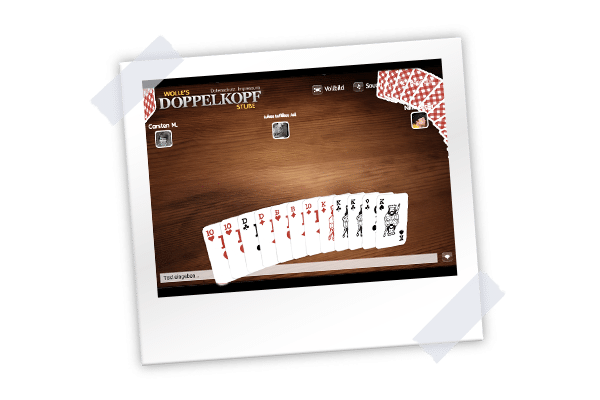 Something is going on
The Doppelkopf Parlor opened its doors on 12/7/2009, back then on German social media StudiVZ, MeinVZ, and SchülerVZ. Later, the platform was broadened by the own website and facebook. After the Skat Palace went online in 2011, Wolle's Doppelkopf Stube became the Doppelkopf Palace in 2013. We found some screenshots from 2013 with an updated design but the old logo: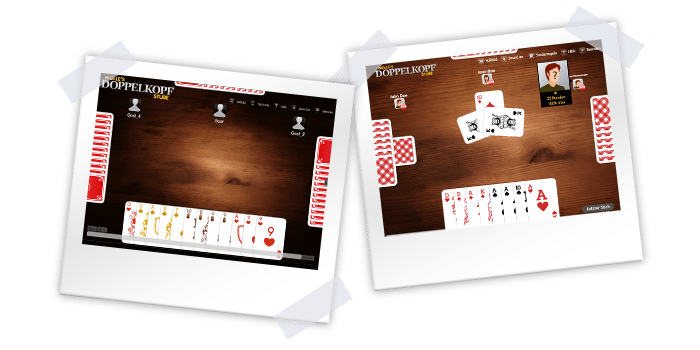 The Doppelkopf Palace launched on 10/16/2013 with some small visual changes: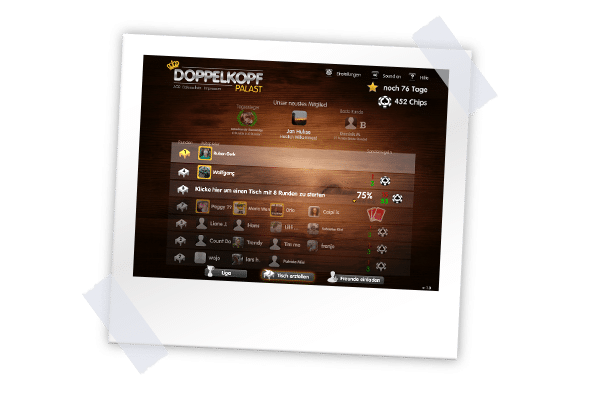 Pushing things forward
Our motivation from the very beginning was giving the joy of playing cards a digital home. Since playing with family, friends, and dedicated groups is one of the favorite pastimes for many people! Providing high-end realizations of online card games, we want to build a vivid player community. With Doppelkopf, we laid the foundation of it.
We keep on building on this, and between then and now, we have been diligently working on new games. Our oldest are not neglected, though. Instead, we keep them up to date and add features. As a result, our Doppelkopf Palace has numerous features: You can join clubs, take part in tournaments, and set up your own tables with a Premium membership, for example.
Our Birthday Child
If you are among the players who haven't strolled through the Doppelkopf Palace yet, let us tell you: Doppelkopf is unbelievably versatile. At base, it is a trick-taking game for four players. The deck consists of 48 cards – 9, 10, Jack, Queen, King, Ace each twice in every suit. A team of two players must win as many points as possible by skillfully playing cards from their hands. When playing the highest card, one can take the whole pile of played cards and gain the respective points. As a start, this sounds quite straight forward. However, it does get exciting because your partner in the game is unknown at first. Who belongs together will become clearer while playing the game. Numerous solo games and additional rules keep the game fresh and add some variety.
Come closer, have a look, and experience the full potential of Doppelkopf at the Palace! To do so, click the following link today, on December 7, 2019. Thereby, you can play at the Doppelkopf Palace as a Premium member for free for two days! This way, you can try all custom rules at your table, for example. Of course, the link works just as well for regular Doppelkopf players or those who already have Premium and would like to add two more days 😉
Click here for two Premium days at the Doppelkopf Palace
Good hand and have fun! See you tomorrow 🙂