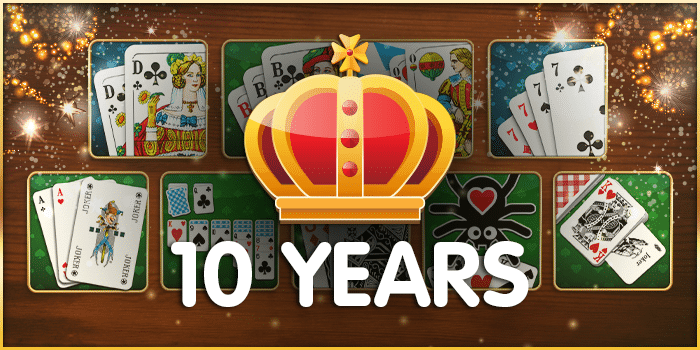 Anniversary Celebrations continue!
Klickt hier für die deutsche Version
Dear friends of the Palace,
Yesterday was our tenth anniversary. As a thank you for your longstanding support, we arranged celebrations over several days at the Palace for you. To his end, we are having a quick look at our second game today. The Skat Palace was put online on December 7, 2011, two years after "Wolle's Doppelkopf Stube".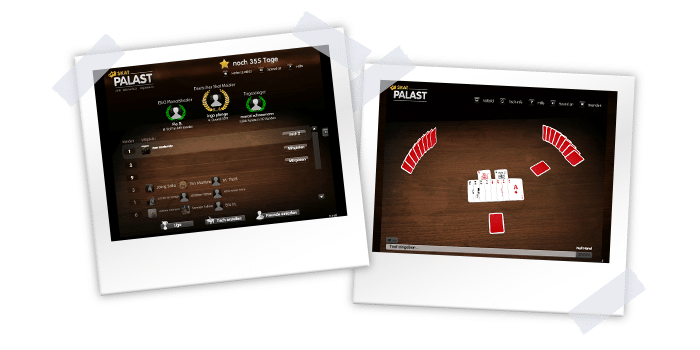 The first Flat Share
As you could read yesterday, our Doppelkopf became a Palace in 2013. So technically, Skat was the first Palace of ours, even though Doppelkopf has been online longer. Once this flat share was set up, we did not lay back. When we publish a game, we stay on it with updates and additions. By now, Skat is one of our biggest games and is still very popular.
Celebrate with Skat
For the greenhorns in terms of Skat: It is a trick-taking game for three players and one deck of 32 cards. Usually, two play against one. Who plays alone, and gets to declare the game, is determined by bidding. Depending on the chosen type of game, the single player must collect a minimum amount of points by trick-taking, or alternatively, must not take any tricks at all. Try it out and get to know the full extent of applicable rules at the Skat Palace!
To do so, click the following link today, December 8, 2019. It will guide you into the Skat Palace and enables free Premium membership for you for two days there! This way, you can, for example, try out all custom rules at your table. Also, all experienced Skat players are welcome, as well as Premium members looking to extend their membership by two days for free. 😉
Click here for two Premium days at the Skat Palace
Good hand and have fun!
Your Palace Team
P.S. Tomorrow, it will be all about our number three. Stopping by is worthwhile!